Efficiency Building projects are for 2 to 5 years long corporate interventions which review and impacts all departments and functions across the organization. We operate as per objectives defined and regular direction provided by the promoter. The business consultancy works with and for the human recourse, understand and review the business process being followed while the organization is aiming to maximize profit. We deploy only one principal consultant for an organization for the project.
All organizations operate with people (manpower), all people implement process and workflows while executing respective role responsibilities, all hierarchy in the organization is deployed to grow business. we increase business performance ensure that the people are happy and motivated with respective role and implement corporate process to reach the common goal. Profit maximization is a default of the followed process.
Methodology
A 5 step process is followed to induce and sustain positive approach to build efficiencies in an existing process and work flow. The activity is initiated after a sigh-off on the objectives for the activity is received from the client partner.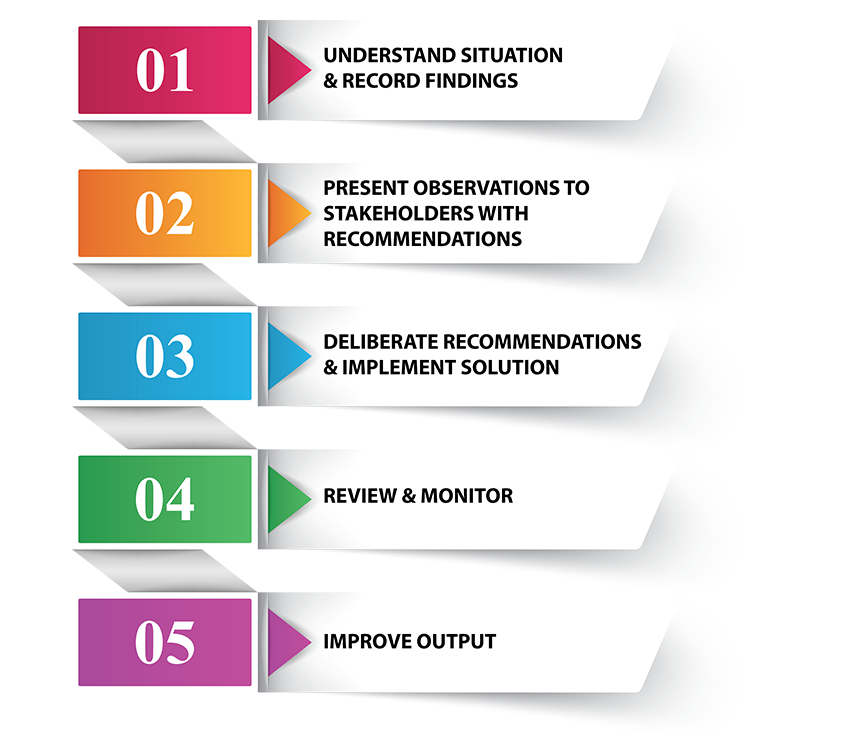 We Create Joy Through:
We operate at either people or process or both to create efficiencies in an organization. The following are the areas which we have been successfully able to crate efficiencies:
Positive Environment: Core focus on People, their current interaction levels, past relationships, areas of correction and efforts made in the past for corrections, willingness and openness to a new approach, strengths of others, larger objective of the organization. Process created to support implementation and communication. Identify and highlight areas which propel trust and belongingness.
Process implementation: Understand various stages of the process, the How, Where and Who in the process flow. Recreate the flow and review vigorously in line with the objective set by the stakeholders. Recommend changes which would positively impact the achievement of the objective. Motivating people with open and transparent communication to ensure implementation.
Profit Maximization: Multiple areas exist where profit is getting negatively impacted, understanding the current flow of business, identifying current achievements, blocks, loss creating incidents, motivation levels etc and weave all aspects to impact top line and bottom line in a client partner environment. People and Process alignment to achieve objectives defined by the stakeholders of the client partner with periodic reviews and feedback.