Efficiency Building projects are for 2 to 5 years long corporate consultancy interventions which review and impacts all departments and functions across the business organization.
Our corporate consulting process operates as per objectives defined and regular direction provided by the promoter so as to ensure efficiency in business operations. The business consultant works with and for the human recourse, understand and review the business process being followed while the organization is aiming to maximize profit. During our business consultancy project, we deploy only one principal corporate consultant for an organization for the project.
All organizations operate with people (manpower), all people implement process and workflows while executing respective role responsibilities, all hierarchy in the organization is deployed to grow business. We increase business performance ensure that the people are happy and motivated with respective role and implement corporate process to reach the common goal. Profit maximization is a default of the followed process of all our business consulting assignments.
Methodology
A 5 step process is followed to induce and sustain positive approach to build efficiencies in an existing process and work flow. The activity is initiated after a sigh-off on the objectives for the activity is received from the client partner.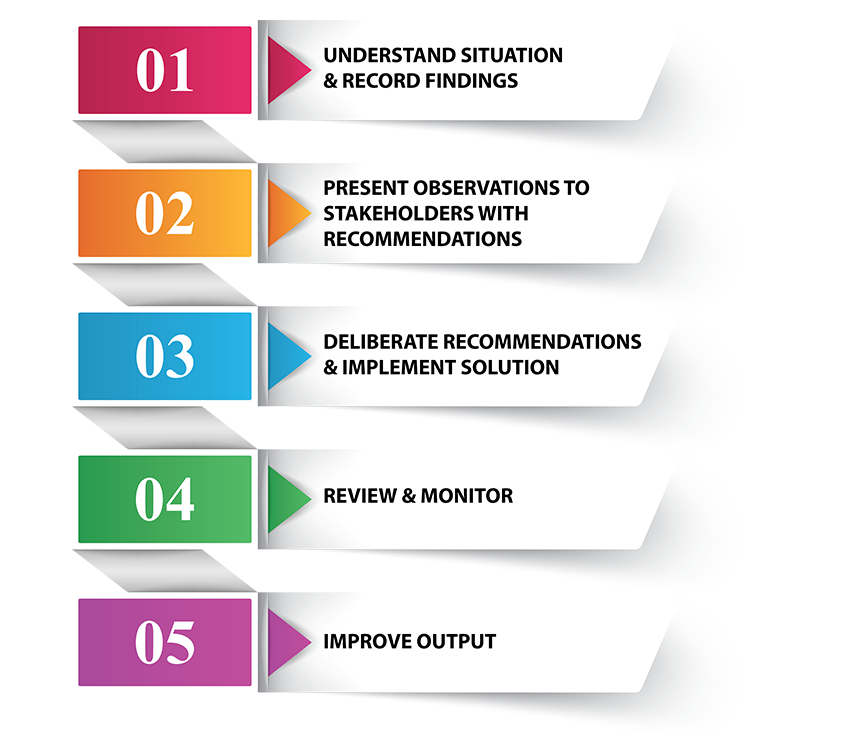 Our Business consulting India process:
We operate at either people or process or both to create efficiencies in an organization. The following are the areas which we have been successfully able to crate efficiencies:
Positive Environment: Core focus on People, their current interaction levels, past relationships, areas of correction and efforts made in the past for corrections, willingness and openness to a new approach, strengths of others, larger objective of the organization. Process created to support implementation and communication. Identify and highlight areas which propel trust and belongingness.
Process implementation: Understand various stages of the process, the How, Where and Who in the process flow. Recreate the flow and review vigorously in line with the objective set by the stakeholders. Recommend changes which would positively impact the achievement of the objective. Motivating people with open and transparent communication to ensure implementation.
Profit Maximization: Multiple areas exist where profit is getting negatively impacted, understanding the current flow of business, identifying current achievements, blocks, loss creating incidents, motivation levels etc and weave all aspects to impact top line and bottom line in a client partner environment. People and Process alignment to achieve objectives defined by the stakeholders of the client partner with periodic reviews and feedback.
Business efficiency Building – Our business Consultancy Services in India / Our corporate consulting in New Delhi, India:
All employees report and work as per the directions and policy of an organization, the objective is the perform respective role and responsibilities and be appreciated for the output and effort. The primary focus of any employee by default is "My Role" and not the organization common goal.  Role paradox is to view the organization from what is needed to achieve "My Role" objective and resources and support needed from others in order to fulfil it.  For any corporate consultant in India, to improve efficiency in workplace it is imperative to create a balance with open expression and understanding of how other's role achievement is also needed to improve the overall office efficiency. Silos and power centers are observed in organizations which are role focused.
Over the last 10 years, we at Joy of Growing have encountered many complex situations with very basic and simple solutions.
Improve Business Efficiency / Create efficiencies in Business / Business growth assignment / Capability enhancement program:
One of the briefs – our last mile connecting third party employees are operating at 60% to 70% efficiency, we need to improve it by 10% and as they are focused on high margin product sale, we would create a positive impact of 20 % to 30% on the bottom line. We spent 3 months visiting over 70 distributors spread across 37 districts of 3 states while shadowing the role of the last mile connecting third party role holder.
The figures provided were far from reality as the role holder was not being allowed to visit the last mile, rather he was deployed at dealerships to work as per direction from the dealer. There were only 9 resources having the relevant knowledge and experience needed for the role to execute its responsibility.
During this Indian corporate consulting assignment, the solution did not require disruption of the existing systems and processes as they were needed for the organization to maintain its existing levels of operations. We restructured the sales function into two verticals – distributor servicing push based selling team and a liquidation team creating pull from the end consumer. During this Indian Business consulting, the project followed a Built, Operate and Transfer – BOT Model. Business profit maximization was a default and after operating one cycle of operations, the project was handed over after recording a 35% spike in the bottom line of the organization.
Employee Efficiency – Operating with People / Business performance consultancy / Corporate capability development – The brief:
While we were growing gradually for the first 8 years from inception, we grew people from within who were willing to take additional responsibility and were dedicated. Business opportunities grew over time and our operations also expanded with the market and with a few strategic decisions. The team members have grown to leadership positions but may not have the attributes, and each one has their own set of styles and preferences. We want to retain them and grow them to the chairs they hold.
During this Business consultancy in Delhi, India, the details of the intervention were shared with the leadership team after calling everyone to HO. There was an initial level of discomfort for the first 2 to 3 months which diluted after every interaction with the leader and his respective team. A report on the high points and areas of focus for the future for each leader was compiled from his vertical / area / department / HO / promoters and presented to the leader in a one-on-one format over 1 dedicated day. The process of data collection, details of questions asked were also shared with each leader.
The subsequent 12 months of this Indian corporate consultancy assignment were spent on creating openness in interaction, giving and taking feedback, common matrix to be followed while reporting, being an equal opportunity employer, positive environment creation, sense of achievement and pride in the journey with the organization, identifying high performers and future leaders. We also undertook learning and development, L&D projects to achieve this aim. 
The intervention had a clear acceptance by all leaders as a developmental exercise aimed at creating measurable sustainable development for the organization. Key projects identified, discussed, and created implementation strategy by the leaders collectively with timelines.
The implementation was done by the leadership team over next 6 to 8 months with 2nd line responsibility with review timelines created and implemented as a process. Multiple such initiatives driven under direction from the promoters were implemented and process handed over to the leadership team to complete the Build-Operate-Transfer – BOT Mode.
We moved out of the organization after 2.5 years and the organization and all leaders have been retained and operating as per expectations of the promoters.
 
Process Implementation – Assignment to Implement Business Process / Improve efficiency and productivity / Business consultant in India – The Brief: We are a 100% SAP enabled organization having 9 Production Plants, at times we have recorded over 30% error while tallying raw material, finished goods and residue. We also have had instances of a batch of finished goods missing from the Finished Goods store. Quality of output also has a variance from one batch to another. There is no central HQ recourse reviewing plants. We need to arrest the situation, and hence we need assistance of a corporate consulting firm in India.
A few other facts shared – Raw material was being centrally procured for all plants, plants responsible for its day to day operations and worker management. Only one junior level maintenance engineer visits all plants on a quarterly basis to address breakdowns. Each location running independent of one another, environment in plants reflects the works head.
We at Jogpeople set up a plant by plant visit for 10 to 15 days at each location, the objective was to meet the team members up to floor executives in all departments. Each interaction was in strict confidence and on a one on one format. In this particular Indian business consultancy assignment, the objective was to understand each plant location as an environment, as a work floor, as a power center, as a ownership center and degree of quality consciousness. We also tried to understand the SAP process understanding and knowledge at the plant floor workers, executives and supervisors, at maintenance store at fished goods store at ETP, boilers, cooling plants and quality labs. We also tried to understand the gate process, the challan's and instructions being followed for men and material.
SAP was present and was being followed but not fully, each process had a verbal or paper run system running parallel to the SAP system, there were processes where SAP entries were getting done after the activity had gone out of the floor, at times after 3 to 4 days. Everyone was aware of the practice and was unhappy with it.
We understand process as a flow which needs to be followed fully at all locations and without any gap. The IT department's SAP recourse was added to the principal corporate consultant team to create workflows and implement 100% across the plant. Only the Plant heads were responsible for ensuring adherence, gaps were being identified and resolved on an ongoing basis and work flow reviews designed on a monthly basis to assist the Location Head.
A few wrong practice following employees were identified at each location over 2 years but the objective of the intervention was achieved 100% as per the promoters and the process has been handed over to the plant sites following a Build, operate and Transfer – BOT Model.